A long time ago, 1993 to be exact, Dad and I delivered an antique truck from Gill to South Carolina. I wrote this story to submit to one of the several Truck Club magazines Dad subscribed to as a surprise for Dad. I finally sent the story in several years later, but they never published it. Now, 21 years later….(ok, now I feel old) I am publishing it online for all to see. I hope you enjoy the story.
The Trip
By Tim Parsons
(written in 1993)
It all started this fall. My father and I were working at his shop in Gill, Massachusetts when someone stopped by to admire the '47 Ford parked out front. Well, he and Dad started talking about trucks (You know how that is. They spent the better part of the afternoon talking) and Dad told the guy 'If you like it that much it could be yours.' That wasn't so bad, but the guy responded that he lived in South Carolina, and how would he get it home? That's when it happened. Four little words. 'I could deliver it……'
The truck was 'rescued' from somebody's backyard in the Shelburne, Massachusetts area about eight years ago. A 1947 1 1/2 ton long wheelbase. It was in surprisingly good shape, at least the sheet metal was. The engine was seized, and there was no bed. The engine was removed and sent to the local machine shop where it was rebuilt, but not assembled. The pieces then sat in the cellar for a few years awaiting a 'roundtuit' (I'll do it when I get roundtuit).Eventually the truck bug bit hard, and the engine was sent away once again to be assembled. It came back, all nice and blue, and sat onc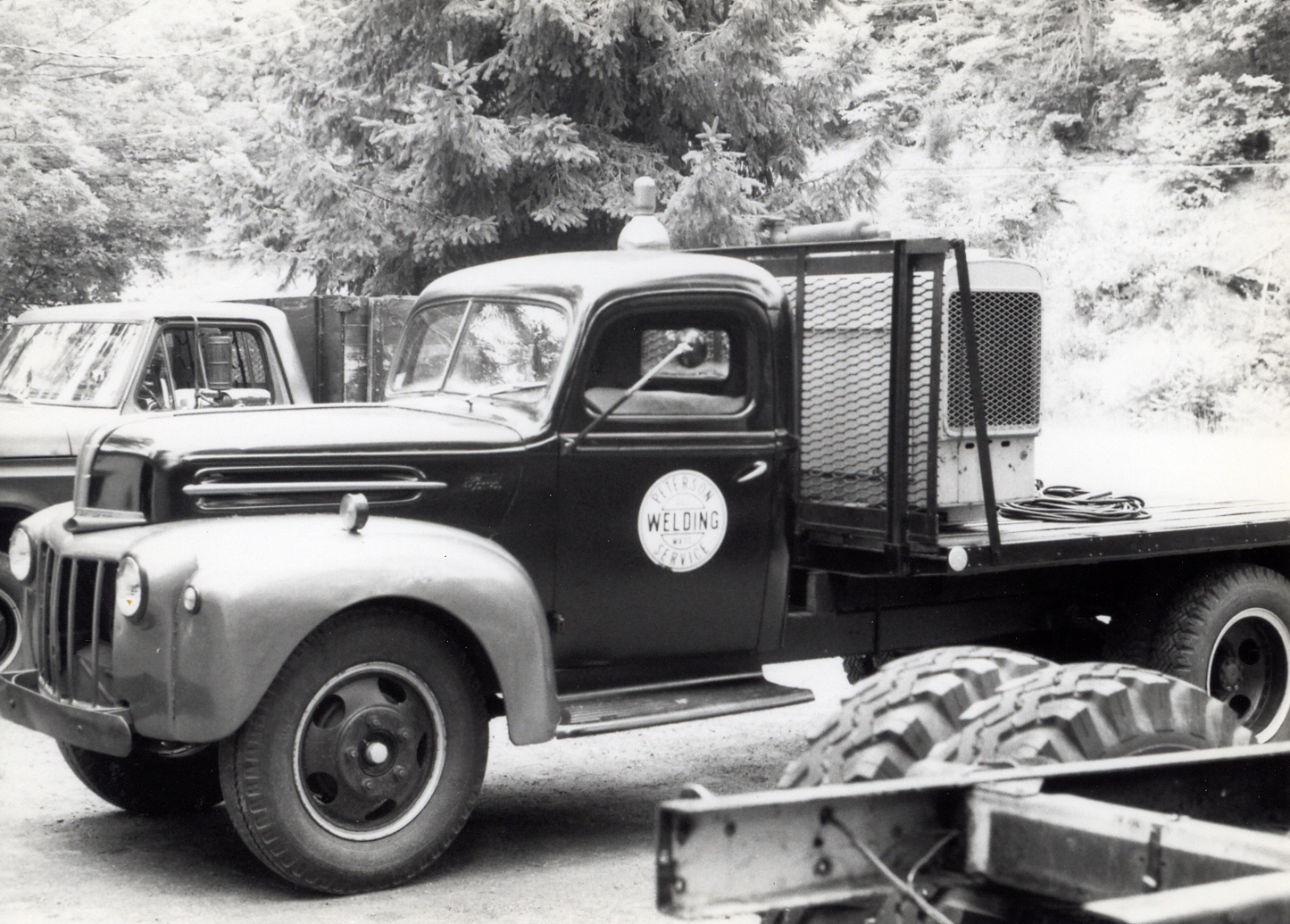 e again. Finally the roundtuit surfaced, and the truck was made whole again. Then began the bodywork. A decent bondo job was all that was needed to remove many years of dents and dings. Then it was given a 'temporary' paint job. The cab and hood were painted a gloss black, and the fenders and hood bars painted a metallic gray/silver. Then came the task of replacing three or four leaf springs in the rear that were broken. I'd like to know how they broke them. It seems to me that it would be pretty hard to do. The truck puttered around the shop for a few more years with no body. It was delegated as sort of a portable catch-all. During a large welding job for the State, a load of steel was delivered. With no more room in the yard, the load (about 6 tons of structural steel) was placed on the back of the truck. That was the only time the overload springs ever touched. A 9 foot flat bed body was finally repaired and placed on the truck. It looked rather silly with a 9 foot body and a 11 foot truck, but at least we could use the thing on the road. The portable welder (left over from the war and weighing about 1 ton) and the oxy-acetelyne tanks were placed on the back, and the truck became our mobile unit. When the truck wasn't being used, the equipment came off and the truck attended shows as far away as 80 miles and was always driven to and from them. Even so, the truck really wasn't used much, and the engine was barely broken in. Then, last fall came the fateful day. In a moment of weakness, the truck was sold, and a promise made to deliver it.
But it doesn't stop here. There were a few conditions attached to the sale. The buyer wanted a 12 foot body, and the transmission needed to be replaced. If anyone has ever worked on one of these, they know that the crossmember under the tranny doesn't come out, so it couldn't just be dropped out the bottom. Instead, we had to take it out through the floor, an adventure at the least. It took three days of work to complete the swap, but one week's worth of time. The old transmission was being included in the deal for parts. Then came the bed search. There weren't any reasonable 12′ bodies in the local parts magazines, so we pulled up an old 11'6″ narrow body from our supply of un-inventoried parts (read junkpile). This was lengthened and widened 6″. This job was quite interesting, and I couldn't help but wonder why we were going through all this trouble for something we'd never get to use. But finally, this too was done. Then we went to the sawmill for two 2 x 12 x 12 foot planks for the frame rails. They custom-cut two of them from clear oak for us. We actualy picked them up with the truck on a cold, sunny afternoon, a taste of things to come. It's a good thing the buyer was going to put the deck on the bed by himself, or we'd still be working. Last minute preps were done. (Change the oil, new battery, rugs on the floor, box on the back to carry suitcases, plywood over the wheels to prevent roostertails in the mud and rain, and mounting the extra transmission on the back.) With the last of the work done, we rolled it back into the garage with a prayer, and went home to rest for the following morning.
'…Good morning listeners! It's 4:30 Sunday morning, and here's Joe with the forecast.
Thanks Jim. Well, it should be a good day today. The temperature now is seasonal 21 degrees. We should see the sun all day, with a high in the mid thirties. Tonight, cloudy, with a chance of snow, low in the teens……'
I hopped into my very cold Jeep and rumbled over to to the shop to meet Dad. Be there at five thirty he says. He's got to be crazy! It figures that I was the one waiting for him. When he showed up, I tried my new key in the truck. Did't work. Let's hope that's not a sign of thing to come. We rolled out of the shop at sunrise, glad to be on the way. South Carolina or Bust! Forty miles later, in Southwick, Massachusetts, came the first of many coffee breaks. I don't like coffee, but it's a place to warm up. Did I mention the truck doesn't have heater? Two doughnuts heavier, and guaranteed a pit stop half an hour later, we crossed into Connecticut. One down, 8 to go. Late into that afternoon, we ran into a snow squall. With only one semi-functional vacuum-operated windshield wiper, driving was a challenge. We saw huge front end loaders with snow plows and chains on all four wheels going the other way. How big was this storm going to be? Thankfully, the storm ended soon, and that was the last of the white stuff we saw.
A pleasant surprise! The truck cruises nicely at 55 mph. After some considerably confusing mental calculation and a few timed miles, we determined that the speedometer was only 80% accurate. So while we thought we were going 55, we were only going 44 or so. After we figured this out, we found that the truck could run comfortably at a real 55 mph. Maybe we can take some interstates after all.
An unpleasant surprise, Connecticut now has one less dog. What a way to start a trip. We picked up route 6 in Connecticut and took that through New York to 94, which took us through New Jersey to Pennsylvania. We took 33 to 22, through Reading, onto 222 to Lancaster where we spent the night.
On the road again at 6:00 Monday morning, we headeed across Pennsylvania on 30 to pick up 15. We would take 15 all the rest of the way, making things a bit easier for the navigator (me). We went through Maryland and into Virginia where we stopped for lunch in Culpeper at McDonalds. The truck had been spark knocking quite a bit that day, probably due to the bad gasoline, so Dad decided to retard the timing. When we left, the truck wouldn't run at speed, it just kept breaking down at anything over an idle. We stopped just up the road, and found that the keeper screw on the timing adjustment was stripped out. Maybe some metal fell inside and was fouling the spark. The distributor cap came off and was shaken out. It was put back together again, but it was just the same. Dad decided to try it for awhile. Maybe it will fix itself. It didn't. One mile later, we stopped again. The whole distributor came out and was disassembled. A problem was found. The plunger that retards the timing when vacuum is low was missing it's bushing surface. We also found that only the keeper screw was stripped, not the threads in the distributor casing. We walked up the road to a auto parts store. 'Do you think they'll have parts for an ld Ford flathead engine??' Yeah, right. We bought a new screw for a nickel, and had to run the plunger the way it was. The distributor was all cleaned and assembled and put back on the truck. Fingers crossed, I cranked the starter. It idles. But it still wouldn't run at speed. Now what? Dad decided to back off the timing another notch, and then the truck ran fine. 'Don't touch anything else, Dad! Just get in!' A few miles later, the truck still knocking, Dad said to me, 'Maybe I should back of the timing just a little bit?'. 'NO!!!! Don't mess with it! Just buy better gas!' So, having lost an hour of driving time, we continued south, spending the night just north of the North Carolina border.
The next day, we drove into North Carolina all the way to our destination, Summerton, South Carolina, with no major problems. I tightened up the door latches that morning. What a difference! No more rattling doors. 'Why didn't you do that sooner?' Noonish, the radiator sprung a small leak at a seam. No big deal, but another distraction. We were both enjoying the warm weather, a balmy 75 degrees. Wonderful compared to the slush and snow New England was getting. We rolled into the buyer's yard at 4:00 in the afternoon with a dirty, greasy truck, and two tired people.
First thing, we washed the truck, and then got the grand tour of the farm. We got a wonderful home cooked dinner of potroast, potatoes, peas, and gravy, (You'd think we were back in New England) and settled into a lay-z-boy to watch TV's funniest bloopers. We slept in the next morning (8:00!) and went to the local diner for breakfast. A stereotypical black lady was cooking up all sorts of southern breakfast food behind a hardware cloth covered window. That was one of the best breakfasts I ever had! Then after a tour of the town, and we were dropped off at the airport so we could get our rental car. Getting a late start at noon, we headed north, glad to be able to go the speed limit, and thankful for such features as cruise control, stereo, reclining seats, heat, and quiet. Our first night found is North Carolina, and the next night home at 10:00PM, having traveled 800 miles that day.
It was really a fun trip, if only for the warm weather if nothing else. Taking the back roads gave us different scenery, and the waves from people and comments from the gas station attendants were nice. It's amazing the universal appeal of the old trucks. Speaking of gas stations, we spent much time at them. Ten miles to the gallon and a fifteen gallon tank with a sometimes-accurate gas gauge made for frequent stops. The truck also liked it's motor oil. It took on average 3/4 of a quart each stop. But the engine ran strong, and purred, although more like a grown tiger than a kitten. Would I do it again? I doubt it. Should we have done it the first time? Probably not. But it was an experience, and brought back memories for the people who stopped to talk with us. At times we wish we still had the truck, but we are not at a loss for old iron. A '37 Ford 1 1/2 ton flatbed fills the old truck void, and several newer antiques (A 1968 Ford Galaxie, 1968 Ford Mustang, 1968 Ford F-250 Flatbed, along with a few Willys Jeeps) keep us quite busy with repairs.
Of course there are the several project trucks down in back should we ever run out of things to do.